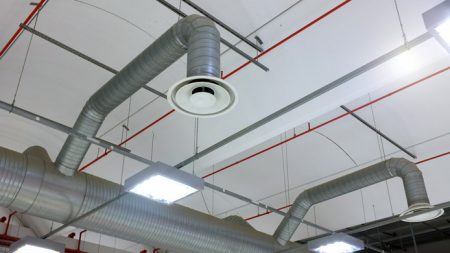 Industry presents some of the most challenging demands for heating and air conditioning. Large rooms, demanding work, unhealthy vapors and temperature changes driven by the work environment are features of many industrial settings. Aria Electric specializes in the field of design and installation for industrial properties and is ready to prepare your building for the demands of its tenants.
Complete Digital Control
When you need the HVAC system to be seamlessly connected to other digital features in the building, Aria Electric is equipped with the expertise to combine heating and air conditioning into your control network. Whether designing or retrofitting a building, we install our digital controls using the vendor of your choice or a selection of leading suppliers, based on your budget.
On Demand Maintenance and Repair
A loss of ventilation can lead to costly work stoppage in the industrial world. Aria Electric offers regular maintenance to service your HVAC system. We also provide on demand HVAC repair to keep your equipment running and employees working.
To contact Aria Electric for industrial HVAC design, installation, maintenance and repair, please use our online request form or call us at (916) 213.7575 in the Sacramento area and at (626) 390.8501 in the San Jose and Bay Areas.
Aria Electric — because we can, we will!